Partners
SAFPU in marriage with Lifeline SA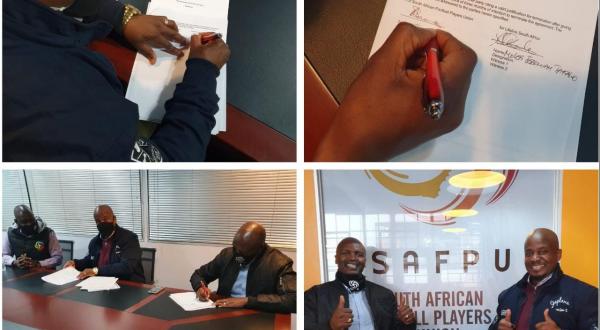 South African Football Players Union (SAFPU) and Lifeline South Africa (Lifeline SA) Entered in to an agreement in Signing the Memorandum of Understanding (MOU).
For many years, SAFPU had a wrestling match with what can be done to address mental awareness within the football fraternity. It is another thing to go publicly from zero to hero and back to zero without any form of assistance to buffer the blow.
While football is termed the beautiful game, it often leaves destruction if the foundation is not cemented from the start. For this reason, SAFPU has partnered with Lifeline SA to subdue this ordeal not to happen. The link between SAFPU and Lifeline SA is a historic one, with Covid-19 highlighting a greater need for emotional and mental wellness.
Considering that we just signed the collective bargaining agreement, CBA with the league (Psl), it is our responsibility and the mandate from SAFPU's National Special Congress in 2017 to have programs that looks after the health of our members to give education and create awareness to the former and current players about the matters relating to mental and emotional wellness in order for them to be equipped with necessary skills. Former players will also be trained to be the ambassadors of this partnership.
The CEO of Lifeline South Africa Mr. Molefi Takalo says: ''The historic partnership addresses a need that many do not want to talk about especially in football.  It is about the psychological and emotional well-being of the players and it does not start when players turn pro, it starts now while they are at school."
The journey which began amid the first leg of Covid-19 has been a very tough one. As it has happened with regards to health policies, we definitely adhered to them. The path seemed to have hurdles but, nonetheless, we managed to secure meetings and finally sealed the Memorandum of Understanding.
SAFPU Deputy Secretary General Mr. Taelo Calvin Motloung says: We saw it fit to Partner with Lifeline SA. We are happy that on the 17th of June 2020, we came to sign the Memorandum of understanding (MOU) with Lifeline SA after a number of meetings. Since we have Lifeline SA together with the Deputy Director and Stake holder co-ordinator, Mr. Refiloe Shuping from the Department of health, it is a ground breaking initiative and first of its kind."
The idea is to avail our services to the needy particularly soccer players and their love ones. Our first service in partnership will prove to be successful when we will show the world what will transpire on Mandela day. SAFPU together with Life-line SA demonstrates that the partnership is locked tight. Presentations by both parties will amicably be welcomed and the status of both organization be uplifted.
During the five year period of partnership, we are hoping not only to achieve our goals of saving lives of our footballers, but also to create job opportunities to those who are finding it difficult to make ends meet. We are hoping not only to be there to intervene when damage has already occurred but also to take preventative measures on early intervention.
Professional Social workers and councilors will be assigned to work with soccer players issues, be it Trauma counseling, Gender base violence and HIV/AIDS, to name but few. Players who needs help are welcomed to contact our offices for easy and quick referral to Lifeline SA.