Player Services
Mandela day with School of Excellence learners.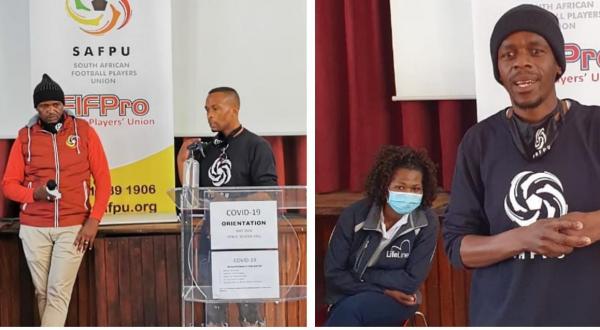 Mandela Day's "Education is the key to the future, for tomorrow belongs to those who prepare for it today."
Reaching the end of the line in life, in your career, in the sport that you love – would mean a cross roads and we as a Union never want that dead-end to mean an end to a means… There is life after retirement, there is life after injury and if your dream of becoming the next Bernard Parker and Steven Pienaar does not work out… There still is a life still worth living…
We chose education and it's always difficult to make books seem as fun as football but we needed to drive home to our audience at the SAFA Transnet Sport School of Excellence in Elandsfontein (JHB) that it matters most, before the talent of being able to dribble a ball.
Mandela Magic came in the form of former football players and learners of the School of Excellence who came to motivate the learners and share their experience in football.
Lucky Maselesele is a former Kaizer Chiefs FC player and the first person to sign with the big club after graduating from the school. He shared his experience with the learners on how important it is to stay put and maintain discipline as a soccer player. Furthermore, he asserted that people should abstain from substances abuse and hanging around with the wrong people.
Tebogo Mathebula former Pillars FC and Mamelodi Sundowns FC midfielder who has also graduated from the school, shared how "If only I had the information that you guys have now, I would have not made the mistake I did in signing the contract that I did not understand Now there's a Union (SAFPU) that cares for its members where they even go as far as giving out Bursaries. Make use of them."
Silence Malefane former Jomo Cosmos FC player has spent 7 years at the school much longer than anticipated. He spoke not a word of English on his arrival and has persevered in taking education further to achieve as a businessman "I wasn't shy to learn, to ask questions and yes I might not have been the smartest, but I worked the hardest. To me – education is everything. Now I am able to feed my family because I managed to juggle between education and football."
Emile Baron former Bafana-Bafana and Bidvest Wits player shared just how hand to mouth living has become hard. "Knowing that I did not make the right choices when the Rands rolled and now I grapple from the demise I have been in and thinking that if I could turn back the hands of time to make right choices, I would have been a better person." Baron is also the first former player to reach out to SAFPU for assistance through Lifeline SA Partnership.
Lifeline SA also gave education on life style to curb illness, furthermore on behaviour to deal with social life style on how it affects us as players. They also taught on breaking the silence against domestic violence if ever one is subjected to abusive relationship.
It was also emphasised by Lifeline SA which also touched on Covid 19 which has shown to be the most dreadful virus. They said: "We are now fighting the pandemic that we do not know. By so saying, it is imperative that we adhere to the regulations of washing our hands and keep them sanitized, wear our face protections at all times and not forgetting to keep our social distance."
SAFPU President Thulaganyo Gaoshubelwe drove home the need for the next generation of footballers to think of filling roles outside of just the 11 men on the field. "Take positions at higher levels of football bodies – occupy the offices of sectors that make the decisions in football. We want footballers who will make the change, who will know how football operates outside of the field. We need leaders! We need you."
Driven by the passion and dedication by which Former President Nelson Mandela led the nation, we desire that our 67 minutes ignited hope in the players and cemented why books come before boots.
"Education is the most powerful weapon which you can use to change the world." Nelson Mandela