South African Football Players Union (SAFPU)
One of our own, shines at the Women's Africa Cup Of Nations in Morocco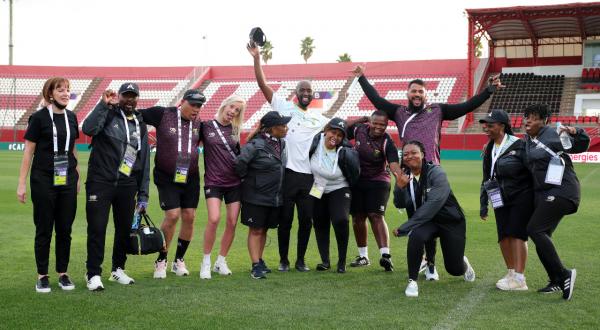 Mpho's Advice:
"I believe every player should study. Every player should take charge of their lives and their future for when they old and grey and can no longer play football. We are all going to reach that ripe old age. So study, invest in yourself and don't be caught not planning for a day when your legs will no longer carry you on a football field."
-Mpho Maruping – Banyana Banyana Video Analyst & SAFPU Member-
It has been more than 10 years since Mpho Maruping became a member of the South African Football Players Union (SAFPU). Voted into the office by the University of Pretoria (Tuks) players' a few years ago, Mpho didn't hesitate in occupying a new role that would not only benefit him but the greater Tuks squad.
This shy guy not only has talent for the game, but he also has a flair for photography and media which he studied on a SAFPU bursary through Vega and is now using these talents to his advantage. "The more you study, the more you learn and I'm happy I grabbed the opportunity when it did. I'm now the video analyst for Banyana Banyana." 
Mpho accessed the bursary fund through SAFPU and it is open to any member player who wants to pursue an education in any field, the monies are paid directly to the selected institutions. "It is a moment of pride to see Mpho on the international stage putting his studies to work - we as a union are proud to have in some way enriched his life and to see the doors open for him, as it has with Banyana Banyana. It is a proud moment and one that will not end here, knowing the character that is Mpho," says Nhlanhla Shabalala - SAFPU Secretary General.
"Reach out and touch your dream," is Mpho's motto. He says SAFPU's leadership as well as Mr. Nkululeko Malgas from Tuks' guidance allowed him to 'tag-along' to gain experience and have a share in analysis – that gave him the courage to go for his dreams. "You need people who are willing to help, teach and assist as you learn and grow, giving you that much needed break. I have been fortunate to have great mentors."
Right now as modern social media lingo goes, Mpho's game analysis is on fleek and he has a goal medal to prove it! Mpho dreams of venturing further to join teams like Manchester United or Liverpool FC's video analysts, to exchange ideas and learn from them and bring the enhancements home for his teams benefit.
Mpho's Advice:
"I believe every player should study. Every player should take charge of their lives and their future for when they old and grey and can no longer play football. We are all going to reach that ripe old age. So study, invest in yourself and don't be caught not planning for a day when your legs will no longer carry you on a football field."
-Mpho Maruping – Banyana Banyana Video Analyst and SAFPU member